5 Things to Consider When Choosing a Mortgage Broker
Two of the most important steps when buying a house are deciding on where to secure financing and deciding which type of financing to use.
As there are numerous places where a buyer can secure a mortgage to purchase a home, it's critical to know what options are available and what is best for your unique situation.
In this article, we examine why a mortgage broker is your best option for taking out a loan, as well as the five things you should consider while choosing which broker to worth with.
What Is the Benefit of Working with a Mortgage Broker?
Independent of banks or other financial institutions, a mortgage broker acts as your agent to find a lender – they do the mortgage shopping for you. A mortgage broker's job is to help you find the best mortgage rate, terms, and conditions for yourindividual needs.
A respectable mortgage broker will help to:
Find the best mortgage by focusing on your financial situation and goals
Find and explain financing options available to you
Work with you to get preapproved for a mortgage
Complete your loan application
Once the loan application is approved, he or she will review the loan documents before you sign them, coordinate the property appraisal, and act as a mediator between you and the lender until the closing day.
One key advantage of working with a mortgage broker is the amount of time and money you save. Rather than spending hours applying for multiple different loans, the mortgage broker can do the comparison-shopping for you, finding you the best rates for your situation. This is very important in today's environment.
What to Look for in a Mortgage Broker
If you've decided to work with a mortgage broker to secure your financing, the next step is figuring out which mortgage broker to choose. Here are five important steps to keep in mind when choosing your mortgage broker:
1. Evaluate Potential Brokers
It's always important to research brokers in your area, gathering as much information as you can about them. Do they seem credible? Have they won any awards? Do they have a social media presence? Do they have a website? Have you seen them out in the community? Have you heard about them before?
Another important factor to look out for is whether or not the broker is licensed and listed. Take a look at which credentials the broker holds and find out if they are registered through Financial Services Commission of Ontario's website – which offers a directory of licensed professionals in Ontario.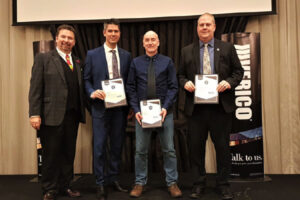 The Mortgage Station team – Michael Smele, Frank VanBodgegom, and David Flude – being honoured and presented with the 2017 Veris Award.
2. Meet Brokers In-Person
It's best to meet up with a mortgage broker in-person if you are interested in working with them. This gives you an idea of what their future services (and your experience with them) might look like. Meeting a mortgage broker in-person will also provide you with an opportunity to ask additional questions to determine if they are up to date with the mortgage industry.
Furthermore, having an in-person meeting will allow you to gage how attentive they are to your concerns and if they can answer your questions confidently and clearly.
At The Mortgage Station, we work hard to provide comprehensive mortgage information to every client – in a clear and concise manner. We'd also consider ourselves pretty fun to be around. For example, we plan yearly events like our FREE Family Skate and a VIP day at Sunset Speedway!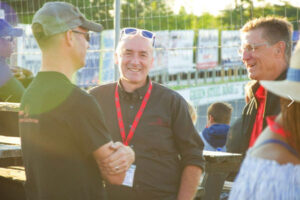 3. Ask Important Questions
Make an effort to ask your potential mortgage broker a few important questions that will help you to make an informed decision about your financial future. These questions can include:
Who their lenders are
Why they choose to work with those specific lenders
What the application process looks like
What their mode of compensation is
Note: Check that the lenders they work with are accredited and reputable.
At The Mortgage Station, we're always transparent and can provide you with additional details about our trusted lenders – should you ever wish to learn more!
4. Check For References
If your mortgage broker has satisfied clients, you'll be able to check their social media pages and website to see howpeople are talking about them, and what people are saying about them.
By scanning reviews and testimonials, you'll be able to get to know the broker even better and see if your values and needs align with their abilities.
At The Mortgage Station, we value every testimonial we receive. Here are just a few from our gracious clients:
"I've known many brokers and agents at this brokerage for years. This team is highly credible, knowledgeable and friendly. A true pleasure to work with and I would highly recommend working with them for a great financing experience – buying or refinancing your home." – Bruce Joseph
To read more of our reviews, please visit our The Mortgage Station Facebook page.

5. Getting Started with an Open Conversation
Deciding on a mortgage broker can be a meticulous process, but making this effort can save you a ton of time and money in the long run.
So, how do you get started? Simply make the call and trust your gut!
If you are in search of a mortgage broker, we invite you to contact The Mortgage Station today. Our specialists work with over 40 Canadian lenders and will work hard to address your unique mortgage needs – whatever they may be.
[maxbutton id="1″ ]
We look forward to speaking with you!