Moving? Here's What to Do, Who to Tell & Your Complete Change of Address Checklist
Moving to a new home is a huge chapter in anyone's life. The promise of new beginnings, fresh surroundings, and perhaps even a new city or province to explore. 
But with this excitement comes a ton of tasks. One of the most important is making sure that everyone who needs to know about your change of address is informed ahead of time. Whether you're making a move within Ontario or venturing out to another part of Canada, this guide and our downloadable change of address checklist is your trusty companion.
Download Your Free Change of Address Checklist
Moving Checklist Table of Contents
Moving? People need to know. Here's why.
When you're changing addresses in Ontario, or anywhere in Canada for that matter, it's not just about the physical transition of moving boxes or hiring the best movers in town. It's about the intangible shifts too. 
Ensuring that your mail reaches your new doorstep, that your healthcare services remain consistent, and that all official records reflect your new address is important. Missing out on vital mail, bills, or official notifications can lead to unnecessary complications, penalties, or even legal issues.
Why should you notify people about your change of address?
Security:

You don't want personal information landing in the wrong hands.

Continuity:

Ensuring services, subscriptions, and utilities transition smoothly to your new place.

Compliance:

Many institutions (and the government!) legally require you to update your address within a certain timeframe.
Comprehensive Change of Address Checklist
1. Personal Contacts
Your family and friends are the backbone of your social life. Informing them ensures you continue to receive those birthday cards, invitations, and surprise packages. It's also essential for close acquaintances and other contacts like your children's school, your gym, or your local community groups.
2. Academic Institutions
If you or your family members are enrolled in schools, colleges, or universities, it's a must to update your address with those institutions. This ensures your records are up to date, and that you continue to receive report cards, event notifications, and other academic communications.
3. Healthcare Professionals
Health is wealth. Ensuring your medical practitioners, from general physicians and your pharmacy to health experts like physiotherapists or therapists, are informed is crucial. This ensures timely appointments, accurate prescription renewals and deliveries, and any health-related updates.
4. Veterinarians
Our furry friends need care too. If you have pets, make sure your vet knows about your move. This is essential for appointment reminders, vaccination schedules, and any emergency communications.
5. Creditors and Services
From your Netflix subscription to your electricity provider, all your service and subscription providers need to know where you've moved. This ensures accurate billing and uninterrupted service. Also, informing creditors ensures you stay on top of any payments or dues.
6. Government Services
The government plays a pivotal role in our daily lives. From the healthcare benefits we receive to eligible rebates, we constantly interact with government entities. Keeping them updated ensures you receive all necessary communications and remain compliant with local, provincial and federal regulations. Miss any of these and be ready for some major headaches.
7. Driver's Licence
Your driving permit isn't just a ticket to the open roads; it's a primary identification document. Updating this ensures you're legally compliant and that any traffic or vehicle-related communications reach you.
8. Clubs and Organizations
Whether you're a part of a book club, a gardening group, or a professional organization, ensure they have your new address. This ensures you stay in the loop for events, meetings, and any other communications. After all, you don't want to miss out on any of the fun!
9. Legal Professionals
If you have ongoing legal matters or simply have a family lawyer, it's essential to update them with your new address. This ensures all legal documents, court notices, and other important communications reach you and you alone.
10. Canada Post
In the digital age, we often forget the importance of physical mail. Setting up mail forwarding with Canada Post ensures you don't miss out on any vital communications or packages, be it a wedding invitation, a tax document or your latest Amazon order.
11. Canada Revenue Agency
Taxes are an inevitable part of life. Keeping the CRA in the loop ensures you receive all necessary documents, notifications, and refunds on time.
12. Canada Pension Plan
Planning for the future? If you're a beneficiary or contributor to the CPP, it's essential they have your updated address to ensure seamless communication and benefit disbursement.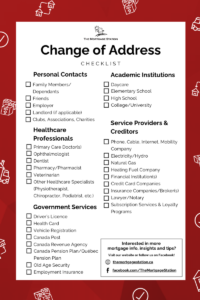 Your Frequently Asked Questions
Who do I need to inform when changing my address in Canada?
Apart from the entities listed above, consider notifying any clubs, associations, or non-profits you're a part of. Also, if you have magazine subscriptions, monthly memberships, or even online shopping accounts, ensure they're updated, too.
What do I need to notify change of address?
Typically, proof of your new address, like a utility bill or rental agreement, is required. Each institution or service might have its specific requirements, so it's best to check in advance.
Who do I notify of a change of address in Ontario?
In Ontario, beyond the general list, ensure you notify provincial government agencies like the Ministry of Transportation and the Ministry of Health. Also, inform local services, utilities, and any community groups or local memberships you might have.
What do I do when changing addresses when moving?
Start with a comprehensive checklist, like the one we've provided. Notify all necessary parties, set up mail forwarding, and ensure all your services are transitioned to your new address. 
Wrapping Up
Moving is more than just a physical transition; it's a journey filled with emotions, tasks, and, you guessed it, checklists. But with the right one in hand, you can ensure that your address change in Ontario or anywhere else in Canada is seamless and stress-free. 
Remember, it's not just about the physical move but ensuring continuity in services, staying compliant, and keeping everyone in the loop.
For more insights, tips, and assistance, especially related to mortgages and financial planning during your move, dive deeper into our blog or get to know us. You can also call or email us at info@themortgagestation.ca if you're in the market for a mortgage that works for you – our expert team of licensed mortgage brokers is here to help.
Here's to a smooth move and a fresh start!